East Kent Mencap are thrilled to announce that we have been awarded £150,000 to go towards restoring our building in Ramsgate, which is called Foresters Hall. We purchased the Foresters Hall site in Ramsgate in January and have big plans to restore it and create a high quality environment which will be a unique space, combining heritage features with fully accessible facilities for people with a learning disability and the wider community. The total cost of the project will be over £1million and the donation from The Colyer-Fergusson Charitable Trust is a very important boost to the fundraising total, enabling some crucial work on the listed building to be carried out.
This article was written by our long-term member David, who attends our Thanet Day Resources and who was a crucial part of the presentation team that secured this funding:
East Kent Mencap were invited by the Colyer-Fergusson Charitable Trust to meet their Board of Trustees and give a presentation with a view to making a donation to Foresters Hall.
Jason Gerlack (East Kent Mencap's CEO) asked me if I would be interested in being part of the team who made the presentation. I have been involved with presentations and events with the Fundraising Team for over three years and really enjoy it. Jason explained that I would have to spend a whole day travelling to London and attending a meeting at a London Hotel. I said yes, of course, I would help.
I met Jason and Jane (East Kent Mencap's Fundraising Manager) the week before the meeting, to write my presentation. We talked about what volunteering I do, (fundraising events, mailings and presentations), what I enjoy doing (sport and social clubs), and how I feel about East Kent Mencap (it is like a family to me). We agreed that I would introduce us, give my part of the presentation about me, thank them at the end of the presentation and ask if they had any questions.
On the day of the presentation, Monday 29 July, Jason picked me up and we drove to the station to catch the train to London. On the way Jane joined us. When we arrived at St Pancras, Jason, Jane and I caught the tube to Bond Street. Then we walked a short way to the Hotel where the meeting was being held. It was a very smart hotel, and we were greeted when we walked in and offered refreshments. After a few minutes the Chief Executive, Jacqueline, invited us into the meeting room and we met the Trustees. 
We gave our presentation and the Trustees were very friendly and interested. They asked me some questions about what I do at East Kent Mencap.
Then we went back to St Pancras and had a sandwich and coffee and caught the train home.
The next day Jason had a phone call from Jacqueline who told him the Trustees wanted to award us £150,000!!! I had to keep it a secret until they made a public announcement.
Two weeks later, I was invited to Foresters and Jason came into the office and surprised me with a card, letter and gift from the Trustees of East Kent Mencap to say thank you for being amazing and giving the presentation. The gift was a stationery set with pens, pads, highlighters and post its.
I felt very overwhelmed but happy. – Written by our member, David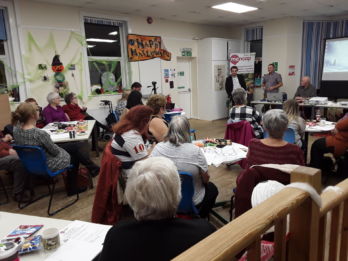 This photograph shows our member David presenting at East Kent Mencap's Annual General Meeting at our Margate Day Resource, announcing the successful fundraising to members and staff present.