Back in December our CEO Jason Gerlack signed the Time to Change Employer Pledge on behalf of East Kent Mencap, and in the last two months our HR department have been working hard to implement valuable initiatives as part of this commitment to changing the way we all think and act about mental health in the workplace.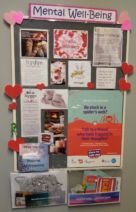 With Wellbeing Champions volunteering across teams, and a Wellbeing Board in every office, we hope staff feel supported by the organisation in their mental health. We've introduced a newonline Staff Hub: a webpage dedicated to signposting staff to mental health and wellbeing services when they are on the go. As the majority of our staff are out and about in the community for most of the week, we wanted to offer something that staff could access and make use of wherever they are.
As we have been making these efforts to encourage positive mental health in our workplace, we were particularly excited yesterday (6th February) to get involved with #TimeToTalkDay! Wellbeing Champions across teams were given materials on starting a conversation around mental health as well as a biscuit budget in the hope that staff would have a chat over a cuppa.
Our admin office at our Ramsgate Day Resource held a 'Time To Talk Wellbeing Lunch' which gave staff the chance to eat their lunch together and have a conversation about wellbeing (followed by biscuits of course!) It also offered staff an opportunity to step out of work-mode and play 'Sussed' (provided by Time To Change), with conversation starters such as 'Would you rather have the power to teleport or shape-shift?' The team have since agreed to try to make time for a monthly Time To Talk lunch! We hope that facilitating these conversations and promoting awareness days like #TimeToTalkDay encourages staff to feel comfortable talking about mental health.
We care about our staff's mental health and wellbeing, and we want them to know that East Kent Mencap not only supports them to do their jobs to the best of their abilities, but promotes their physical and mental wellbeing too. We want to remove the stigma around talking about mental health, and facilitate openness and a sense of community across teams.
We could not do any of this without our Wellbeing Champions, working hard to spread the word and sharing monthly wellbeing updates with their respective teams. A big thank you to you all!
Foresters Hall: Dani Meier
Thanet SIS COM: Carrie-Anne Gibbons
Thanet SIS HSG: Jon Dorman
Thanet Day Resource: Jill Kennington and Tristan Kennedy
GOLD: Simon Handley
Canterbury SIS HSG: Kayleigh Gaiger
Herne Bay Day Resource: Steve Harris