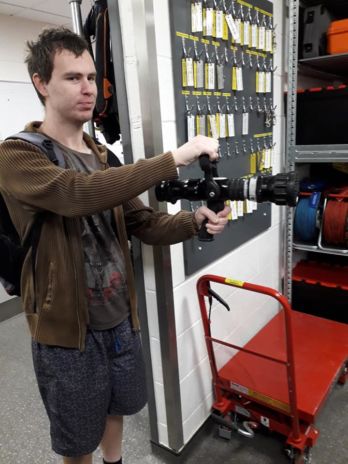 Our GOLD (Getting On with Learning Disabilities) group have a social group that meet weekly at Weatherspoons in Ramsgate. Some of the members in the group had seen that Ramsgate was building a new Fire Station and we wondered if we could visit it.
After contacting Christian Redmond at Kent Fire Service, GOLD arranged a visit. We were warmly welcomed at the Fire station, given a tour and shown the equipment they use. We met some of the fire fighters and asked lots of questions.
The fire fighters gave us some easy read information on fire safety. Just as we were leaving they had a call out and it was dramatic!
Our members said they had really enjoyed the visit and the fire fighters had been really friendly. A huge thank you to all the fire fighters for welcoming our visit!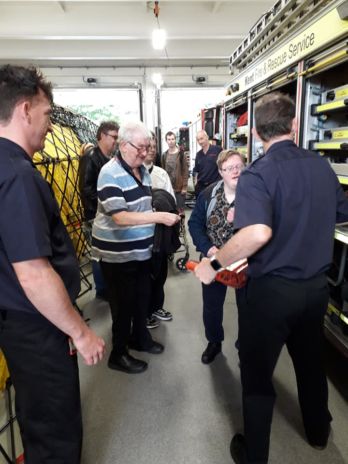 The new purpose built fire station fit for 21st century firefighting was officially opened in Ramsgate on 5th February this year. The station and training facility is based in Newington Road.
What is GOLD?
East Kent Mencap's friendly team at Getting On with Learning Difficulties (GOLD) can support you to achieve your goals, so you can get on with living the life you want. GOLD is for people with a learning difficulty in Thanet who live independently, receive less than 5 hours of support a week, or live with unpaid carers and receive no other support.
The GOLD team can provide you with information and advice about benefits, housing, debt and budgeting, volunteering, leisure activities, meeting people, and campaigning. GOLD offers one-to-one confidential support, and has daytime and evening groups where you can talk about the things that are important to you, meet new people and find out what's happening in your local area. For more information on GOLD, contact us via email, or phone 0845 004 1876.