Salary/Rate: £8.84 per hour
Location: Thanet, Kent
Hours: Full-time, 3-year contract
Deadline: Wednesday 11th March
Job Description:
East Kent Mencap are looking for someone to support people who are part of our Getting On with Learning Disabilities (GOLD) group. This group is for people in Thanet who have a learning disability and live independently with little or no other support.
You will support East Kent Mencap's most independent service users by advising on benefits, rent, housing issues, social opportunities, and emotional problems.
You will help our service users to increase their confidence and self-esteem, feel less socially isolated, develop skills, become more resilient, take a more active role in their community, and have their voices heard.
You will be a friendly face in a complicated world, and you will make a real difference in the lives of people who may not have any other form of consistent support.
You will be happy working with individuals and groups, making phone calls to follow up PIP and ESA applications, deciphering forms, signposting support services, and being a part of social events and meetings.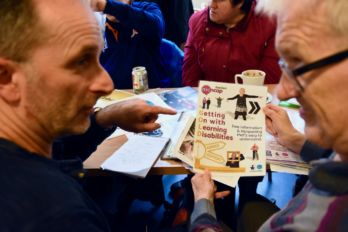 Our current GOLD team say:
"We try and smooth the bumps in the road so people can carry on along their way"
"We fill in the gaps that other services don't fill"
"We offer a safety net that stops people spiraling into a crisis"
"Working for East Kent Mencap's GOLD Project is fun and gives me satisfaction that I have made a difference. You need to think on your feet, but there is always humour and a great team"
To view the full job description, please click here.
You can apply by sending your CV and covering letter to HR Manager, Alison Fengas (alison.fengas@eastkentmencap.co.uk). Candidates selected for interview will be contacted after the closing date of Wednesday 11th March. However, we reserve the right to close the job immediately should we receive sufficient early applications. If you would like an informal chat about this post, please contact our HR Manager, Alison Fengas on 01843 808964.
As we hold Disability Confident Leader status, all candidates with a disability meeting the minimum criteria of this role will be offered an interview on every occasion.