The Time to Change Employer Pledge is a commitment to changing the way we all think and act about mental health in the workplace. Over 1,200 organisations, employing over 2 million people, are now involved. On Thursday 19th December 2019, CEO Jason Gerlack signed the Time to Change Employer Pledge on behalf of East Kent Mencap at the Sheppey Day Resource Centre.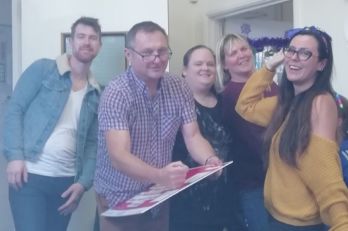 We are signing this Pledge because East Kent Mencap is a very caring place to work and all our staff put in a huge amount of effort to support our members. It is therefore very important to recognise and offer support to the staff themselves.
We care about our staff's mental health and wellbeing, and we want them to know that East Kent Mencap not only supports them to do their jobs to the best of their abilities, but promotes their physical and mental wellbeing too. We want to remove the stigma around talking about mental health and facilitate openness and a sense of community across teams.
As part of this pledge, we have already begun to create 'Wellbeing Boards' and hope to have one in every office. This is a space where staff can share information on local events, mindfulness tips and signposting to other services. This is facilitated by our newly appointed 'Wellbeing Champions' across each team, who help to update this information and assist with activities around awareness days. We hope they will also feedback to us how the Pledge is impacting their team, and what we can do to improve further. The HR and Marketing teams have collaborated on a weekly staff newsletter with a 'Mindfulness Section', which includes wellbeing tips and good news stories about the staff.

As we progress into the new year, we hope these changes will have a positive impact on staff wellbeing, and we will continue to look at further ways to improve this.
We couldn't do any of this without our Wellbeing Champions, working hard to spread the word and sharing monthly wellbeing updates with their respective teams. A big thank you to you all!
Foresters Hall: Dani Meier
Thanet SIS COM: Carrie-Anne Gibbons
Thanet SIS HSG: Jon Dorman
Thanet Day Resource: Jill Kennington and Tristan Kennedy
GOLD: Simon Handley
Canterbury SIS HSG: Kayleigh Gaiger
Herne Bay Day Resource: Steve Harris