Lee has been coming to East Kent Mencap since it opened in Sheppey in 2011. He has achieved a great deal during that time and most recently, moved into his own flat. 
Read on to find out about Lee's journey from supported living to independent living and discover how he loves to volunteer.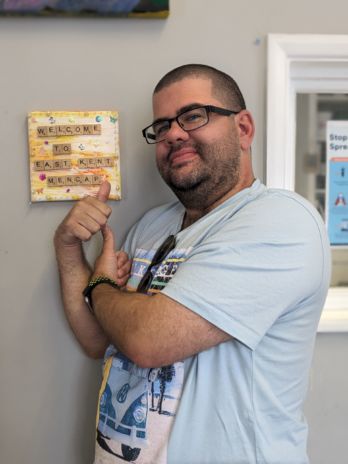 What do you enjoy most at the Swale Hub? 
I like the Community Engagement sessions, we go out to museums, parks, and bowling. I am interested in history and enjoy getting out and about. The best thing about East Kent Mencap is seeing all my friends, having a giggle with the staff, and trying lots of new activities.  
Can you share a favourite memory about your time at East Kent Mencap?  
I was in the East Kent Mencap's Got Talent show in September 2019. As I am a Scouts Leader, I showed everyone how to pack a bag when you go camping. It was such a fun show and everyone came to watch. 
You recently moved into your own flat from shared housing. How are you finding living independently? 
Loving it! I like doing things on my own. I feel very proud. I felt scared at first, but I knew East Kent Mencap staff were on hand to talk to if I needed it. I also knew the area and have nice friendly neighbours. It's great to shut the door at the end of the day and be in your own place. 
How did being in supportive living help prepare you for living on your own? 
In supportive living I learned how to cook, wash, and clean, so now I can do all those things in my own flat. I was afraid of the dark and the East Kent Mencap staff helped me overcome this fear. They would walk with me at night up our road and gradually I built my confidence to walk on my own.  I had support with shopping, going to the gym, travel training – so many things. They helped me grow in confidence. 
What is your favourite meal to cook? 
I do love making pasta bake. I learnt how to make it in supported living, I put everything in it – it's very tasty. I also make homemade pies and roast lamb with mint sauce.  
What is your least favourite chore at home? 
Cleaning the bathroom! I do it but I don't like it. My flat is very clean, there is only me so there isn't much mess. 
What do you enjoy doing in your spare time?  
I love to volunteer. I work as a Youth Worker at Sheppey Matters, supporting children with ADHD and Autism by doing games and craft activities. I am a Scouts Leader and I also go to the 'Sing and Sign' group every week and have learned how to sign. And finally, Senior Support Worker, Tracy at East Kent Mencap helped me to get a volunteer role at the local RSPCA Charity Shop. It is so rewarding to volunteer and help others.  
You have been on an amazing journey since joining East Kent Mencap. How does it make you feel? 
It makes me feel chuffed. I have proved to everyone that I can do it.  
What would you say to someone thinking about going into supported living accommodation? 
Go for it! You will learn so much. The staff are there to guide you, they don't push you. It is such a good thing to do. I thought about it for a long time and then I just went for it.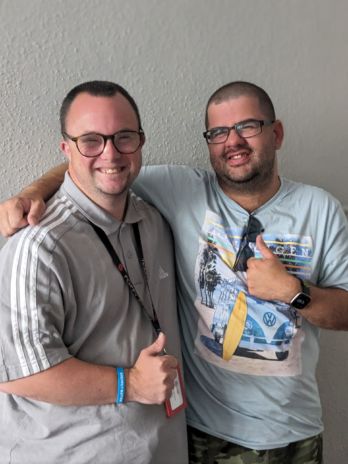 Lee pictured with good friend, Laurie, who also attends East Kent Mencap Hub in Sheppey.