East Kent Mencap have online services available for people with a learning disability. These will continue to be available throughout the COVID-19 pandemic, and we can help you with any technical issues that you may have when accessing these services from home.
We have an online community of over 6,300 people, including individuals with a learning disability, their families, carers and EKM supporters.
To access these services, you will need to have access to a smartphone, computer or tablet at home, as well as a reliable internet connection. If you need help getting set up or would like some advice on technology, please get in touch and we can support you to be able to access these services.
See below for more information about our online services.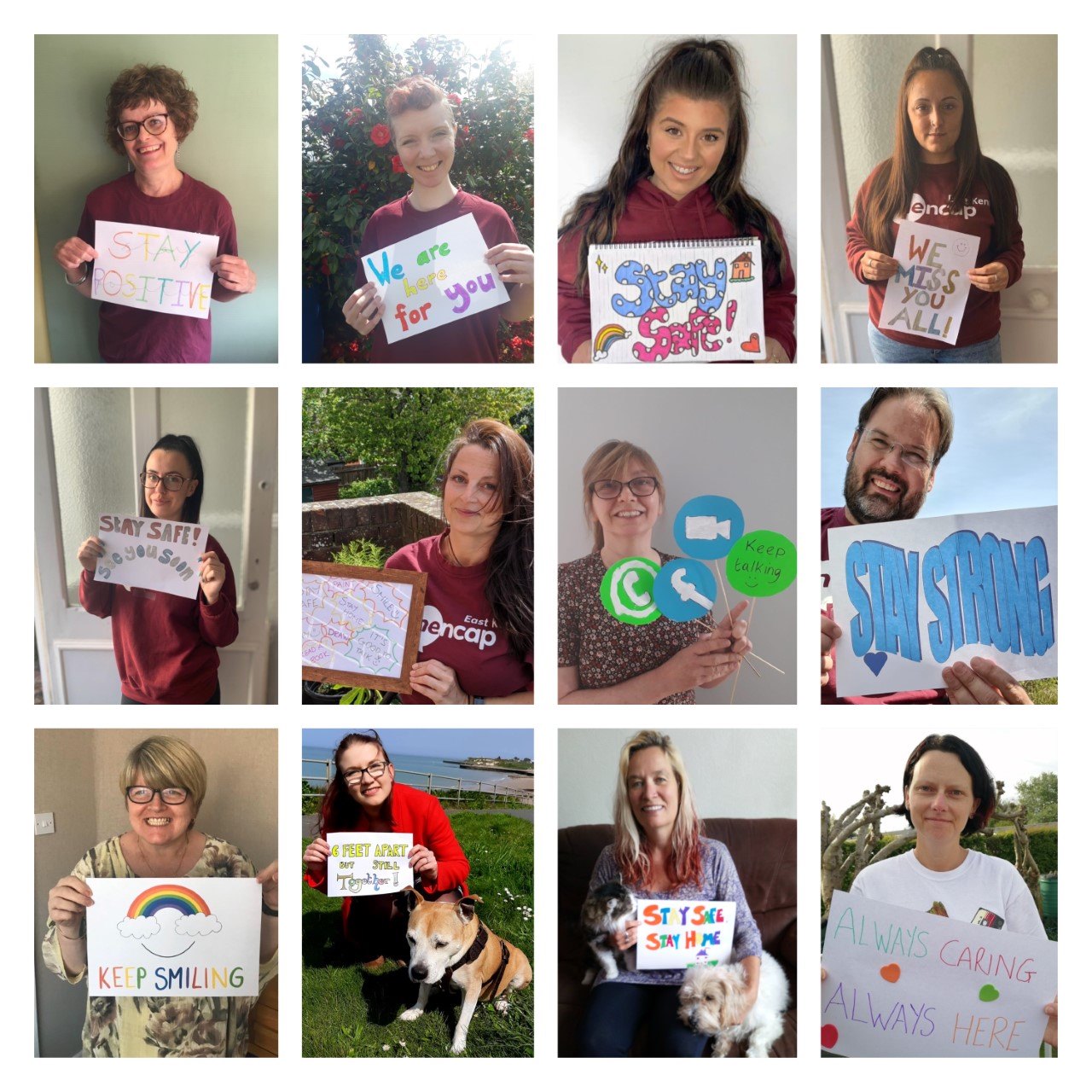 Virtual Day Resource Sessions
Our Day Resources in Sheerness, Herne Bay, Margate and Ramsgate have run Virtual Day Resource Sessions over Microsoft Teams during the pandemic. These sessions involve all the fun, companionship and support of our in-person Day Resource Sessions, but are accessed over a video call from the comfort and safety of each individual's home. We carry out these sessions following guidance from the government regarding isolating to reduce the spread of COVID-19.
Activities include arts and crafts, fitness, games, music, life skills and more. The Virtual Day Resource Sessions involve a small group of members who can all talk to each other, work together and make friends.
As part of our Day Resource service, during lockdowns, we keep in touch with members through regular phone calls to provide support, advice and a friendly check-in.
KARA tablets - Video carephones
East Kent Mencap was delighted to be chosen by Kent County Council to take part in their new service, KARA, which provides vulnerable people across Kent with virtual care and support via video carephones. In partnership with RETHINK Partners and Alcove, Kent County Council lunched the KARA service as part of a response to the COVID-19 pandemic.
With a KARA tablet, even those with little or no technical ability are now able to connect with loved ones and caregivers.
KCC have commented that EKM was the 'most productive organisation' taking part in the programme as our staff have so far supported the rollout of 75 units to members with tablets still going out. Members tell us they are making great use of their tablets!
If you would like to find out more if you or someone you care for could benefit from a KARA tablet, please do get in touch on 01843 808 964 or email info@eastkentmencap.co.uk.
The photo below shows our member Natalie delivering a KARA tablet to her friend and fellow EKM member Robert, so they can chat to each other virtually whenever they like.
Online events
We also run one-off online events, including virtual discos, online film premieres starring our members, video-streamed music concerts, and virtual Fun Days!
Our events are a mix of free and paid for, accessed over YouTube, Zoom or Microsoft Teams, depending on the event.
Email funds@eastkentmencap.co.uk if you have any questions about our events.
Facebook Lives
We ran Facebook Lives on our Facebook page every lunchtime at 12pm on Mondays and Fridays so that our members could chat to Demi and other members of our team in real-time. These catch up chats were live, public, free, a chance to hear about our most up-to-date news, as well as an opportunity to chat to other members and supporters of East Kent Mencap.
We have an online Facebook community of over 2,500 of EKM members who have a learning disability and supporters. Join us to chat and get advice.
YouTube
Our YouTube channel is full of awesome activity videos by our Support Workers, showing you lots of activities that you can do at home, including cooking, gardening, drawing, and music!
You can also watch fantastic videos of our members performing music, dance and drama shows, as well as many other talents!
There are over 140 videos on our YouTube channel for you to enjoy.
Explore our YouTube channel here.